Glee Daily News @ Spring Fair - Issue 1 2018 | 17 January, 2018
Send us your news and great ideas

Glee Daily News brings you all the latest news from Glee at Spring Fair - previews, live issues from the show and an omnibus edition

The team from GTN are proud to be the official media partners for Glee at Spring Fair producing seven issue of Glee Daily News.

From now until the end of February the Glee Daily News, in its unique e-mail format, will keep visitors up to date with what they can see at the show and gives exhibitors the most up to date e-mail vehicle for ensuring buyers know about their new products and other Glee at Spring Fair activities.

Here's the schedule for the Glee Daily News at Spring Fair 2018:

Launch issue -

17th January

Show Preview - 29th January

Build up preview - Live from the Show -

3rd February

Live from the Show Day 1 - 4th February

Live from the Show Day 2 - 5th February

Live from the Show Day3 - 6th February

Omnibus Issue -

22nd February


To make sure you get your own copy of Glee Daily News sign up here

For advertorial and advertisng opportunties please contact Ben Greenwood, Alan Burdon or Mandy Davies at Potting Shed Press Ltd, 01733 775700, owners and publishers of Garden Trade News, Garden Radio and The Greatest Awards.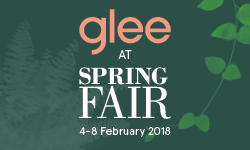 Send to a Friend » | Subscribe » | Archive » | Update your Profile » | Print all Articles » | RSS » | Visit our website »
Published by Potting Shed Press Limited
© 2018 Potting Shed Press Limited. All rights reserved.


This email is sent on behalf of Glee Birmingham by its official media partner Garden Trade News.

We hope you found this Glee Daily News email update useful, but if you would rather not receive communications of this kind from us in future, please unsubscribe here. 

Glee Birmingham is brought to you by Ascential Events, The Studios, 2 Kingdom Street, Paddington W2 6JG part of Ascential plc. Company number 7925964 (England and Wales)