Glee Daily News @ Spring Fair - Issue 1 2018 | 17 January, 2018
Send us your news and great ideas

Shake-up at the top of Dobbies but Nicholas Marshall stays

Rumours circulating in the garden industry today that Nicholas Marshall had left his job as CEO of Dobbies have proved be unfounded although two of his senior team – Lorrie Robertson and Andrew West – have left the company. Commuting to Edinburgh has been given as the reason for their decision to leave.

In a statement issued late Friday afternoon, the company said:

"Dobbies today announced a re-shuffle in some of its senior leadership positions. Graeme Jenkins is to become Chief Operating Officer, in addition to his present role as Chief Financial Officer. Graeme replaces Lorrie Robertson, who has left the Company.

"Marcus Eyles, currently head of online and horticulture, will take the role of Purchasing Director, replacing Andrew West, who has also left the Company for personal travel-related reasons.

"Dobbies congratulated Graeme and Marcus on their new roles.

"Nicholas Marshall, who was appointed CEO at the 35-centre chain, remains Chief Executive."

Nicholas Marshall took over at the top of Dobbies in March last year and within months of his arrival he had put together a team full of former colleagues.

In an interview with GTN last November Marshall said: "The theme here before I arrived was a pound shop. Actually it was worse than that – they had some things that cynical retailers would sell. In the DIY industry they go to China, they buy cheap products, bring it over here, put it at a price which is ridiculous and then they half-price it and people say what a good bargain, and it isn't. Do we like garish, no."

Read the full interview with Nicholas Marshall at: https://issuu.com/gardentradenews/docs/gtn_nov_2017

See GTN's photo tour of Christmas at Dobbies Mellville in GTN's Greatest Christmas Awards, sponsored by Gardman, in the Image gallery below.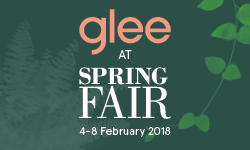 Send to a Friend » | Subscribe » | Archive » | Update your Profile » | Print all Articles » | RSS » | Visit our website »
Published by Potting Shed Press Limited
© 2018 Potting Shed Press Limited. All rights reserved.


This email is sent on behalf of Glee Birmingham by its official media partner Garden Trade News.

We hope you found this Glee Daily News email update useful, but if you would rather not receive communications of this kind from us in future, please unsubscribe here. 

Glee Birmingham is brought to you by Ascential Events, The Studios, 2 Kingdom Street, Paddington W2 6JG part of Ascential plc. Company number 7925964 (England and Wales)