Glee Daily News @ Spring Fair - Issue 1 2018 | 17 January, 2018
Send us your news and great ideas

Exhibitor spotlight: Hygeia Garden

The team at Hygeia Garden is delighted to present their range of garden care products at Spring Fair 2018.

As experts in the industry with almost 80 years' experience of R&D and innovation, they look forward to launching our lawn care products in the UK.

These products include current market leaders in Ireland as well as exciting new developments for 2018.

"GreenForce Feed Weed & Mosskiller is our bestseller – it covers up to twice the area of the competitor product, offering fantastic value to the consumer and a new and exciting option to the retailer.

"Multi award winning GreenForce Lawn Gold is an organic based lawn fertiliser that is pet safe, child safe, and won't turn moss black – that means no raking out!

"Come and see us at stand 3E15 to find out more. We look forward to doing business with you in 2018 and beyond."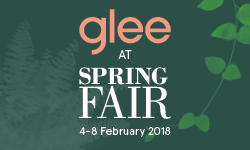 Send to a Friend » | Subscribe » | Archive » | Update your Profile » | Print all Articles » | RSS » | Visit our website »
Published by Potting Shed Press Limited
© 2018 Potting Shed Press Limited. All rights reserved.


This email is sent on behalf of Glee Birmingham by its official media partner Garden Trade News.

We hope you found this Glee Daily News email update useful, but if you would rather not receive communications of this kind from us in future, please unsubscribe here. 

Glee Birmingham is brought to you by Ascential Events, The Studios, 2 Kingdom Street, Paddington W2 6JG part of Ascential plc. Company number 7925964 (England and Wales)