Thursday 6th September 2018
Final preparations for the Glee New Product Showcase
Good Evening!

Thank you for your entries into the Glee New Product Showcase and Awards.
As usual this year we will be accepting your product entries for display, on the Sunday of Glee before judging takes place throughout the Monday. We ask that you please take the time to read this notice regarding directions for product display and the outline of events that lead to the final judging decision.


Product Delivery for Showcasing:

In order for the delivery of entries to run smoothly, we ask that the following instructions are adhered to:
- All products should be delivered to the GTN team at 19A53, adjacent to the New Product Display area on Sunday 9th September between 12.00 and 17.00 for registration.
- Any products not signed in by 17.00 on the 9th September will not be displayed or considered for judging.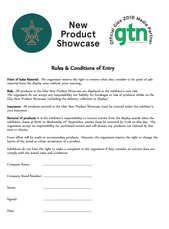 Please bring the following to the registration desk at 19A53:
- ONE example only of EACH new product.
- One signed Rules & Conditions of Entry form per exhibitor which is here:  New Product Showcase 2018 Terms of Entry

The earlier you are able to deliver your product to us, the less likely it is you will have to spend time in a queue to enter your product. A product card is produced pre-Glee for each entry submitted, please do not ask us to add any further information or POS material.  The display is for New Products, not new point of sale and the display is intended to signpost people to your stand where you can "sell" to them.


We would also like to remind all entrants that no more than FIVE entries can be made in any one Glee New Product Awards category and cannot accept additional entries.

As a reminder the Glee New Product Showcase categories are: 

Garden Care (Chemicals, Fertilisers & Compost)
Garden Care (Growing Accessories)
Garden Decoration
Home, Gift & Clothing
Landscaping
Machinery & Tools
Outdoor Entertaining
Pet & Wildlife Products
Plants Seeds & Bulbs
Retail & Industry Services


Judging of New Products

The preliminary judging will be taking place 08:00-12.00 on Monday, at which point the Top 3 shortlists for each product category will be published in the Glee Daily News- please keep a look out for this as the next part of the judging process involves a representative from each of the shortlisted products making a 2 minute pitch to the judges before the winners are decided. The pitches to the judges start at 14:00 on Monday and take place in the Hall 8.1 office. If you are shortlisted, you will be notified of your given a time slot to present your pitch to the judges.

The winners will be announced at the Glee New Product Showcase area in Hall 19 at 17:00 on Monday 10th September.  We look forward to seeing you there!

Thank you in advance for your co-operation and I hope that all the above is clear.

See you on Sunday,



Trevor Pfeiffer
Garden Trade News.  07973 504214
Published by Potting Shed Press Limited. © 2018 Potting Shed Press Limited. All rights reserved.
This email is sent on behalf of Glee Birmingham by its official media partner Garden Trade News, published by Potting Shed Press Ltd. www.gardentradenews.co.uk
Glee Birmingham is brought to you by ITE Exhibitions, The Studios, 2 Kingdom Street, Paddington W2 6JG part of ITE Group PLC. Company number 01927339 (England and Wales)